Discover more from Elad Blog
I am a serial entrepreneur obsessed with technology and startups.
Over 18,000 subscribers
Hiring Executives & Bad Advice
When your company hits strong product market fit, your company will be sucked into a vortex of customer demand and experience a Cambrian explosion of internal org complexity simultaneously. Things will initially seem to just truck along as usual, and then suddenly everything at the company will break at once. Most. but not all, of this breakage is avoidable, but most first-time (at scaling) founders screw it up[0]. The key to avoiding a melt-down is to hire key executives or functional leaders early.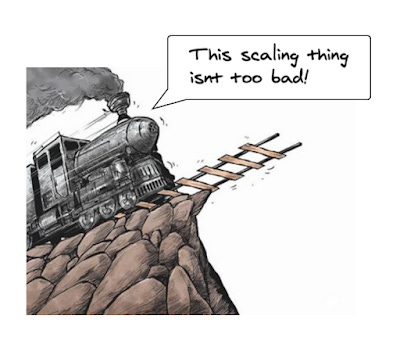 During break-out growth the following things start to happen:
It Starts Slow, And Then Accelerates
The early days post-PMF may feel like no big deal. Growing from 5 to 10 or 15 people seems like much of the same. However, you need to remember everything about your business is compounding. Growing 20% a month is a 9X in a year. Small numbers growing linearly for a while continue to be small. Small numbers compounding into suddenly large numbers can create sudden melt downs. High growth companies are less like boiling a frog, and more like standing on top of a volcano that suddenly erupts[2]. You go from juggling 1 ball to 2 balls (not too bad) to 4 balls (starting to get tough) to 8 balls to 16 balls (blargh!).....
Hiring Executives Early Is the Key To Avoiding A Meltdown
Hiring bona-fide executives well in advance before things break is the difference between a sudden ongoing meltdown at your company versus not. Many founders wait to hire executives "when we have enough scale to support them", instead of viewing the executives as crucial to supporting future scale. The thought process is inappropriately inverted. Executives exist to help you scale and run the company, not the other way around.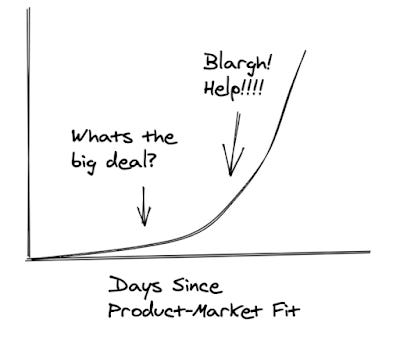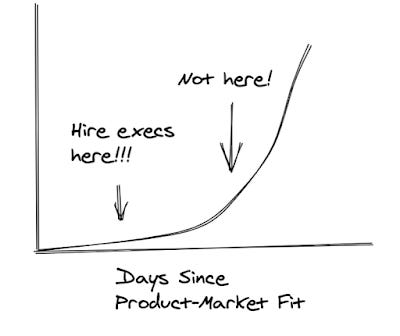 Remember - it will take 2-3 weeks to chose a search firm[1]. Then 2-3 months to find a close a promising candidate. And then 1-3 months for them to really scale. So from the time you kick off a search for an executive it may take 4-6 months for that hire to be productive. Once you have product-market fit, you need to build out an executive team immediately. It feels like you can wait, but it is the organizational equivalent of technical debt - you will pay for it later.
Scaling Is All About Creating Bandwidth
The reason you need executives early is you need people who can:
Second Time (Scaling) Founders And Hiring Executives
As a first time founder I would always shake my head in dismay when I would see a successful second time founder's early team. At 15 people they would have 3-4 VPs! "Why do they need all that overhead??" I would think in flustered founder outrage[4]. That changed after I sold my first startup to Twitter and I helped Twitter scale from 90 to 1500 people in 2.5 years. I realized the power of strong functional leaders while going through hypergrowth. For my next startup, Color, we hired a COO in the first dozen people and both I, and one of my cofounders Othman Laraki had been VPs at Twitter before.
Second time founders who have been through a scaling experience recognize the enormous advantages to having people on board who have run and built a function before. While you want to hire for slope, you also want to hire for experience once you hit product-market fit.
Bad Pre-PMF Advice For Post-PMF Companies
Traditionally, pre-PMF companies were given very bad post-PMF advice. For example "go ramp your sales team" in the absence of product-market-fit can cause a company to burn all its money and die.
More recently, this has flipped and post-PMF companies are increasingly getting advice that only really applies before-PMF. Some awful advice is given to scaling companies by people who have never scaled anything. If one of your angels grew their startup to 11 people and sold it to Google, that does not mean they understand anything about running a post-product market fit company, scaling a sales team, or building a real organization. 
Common bad advice includes:

With PMF, You Are Instantly A Two Product CompanyPost-product market-fit companies have two products: (1) what you sell to companies and (2) your company. Just as you have a roadmap for your product, you should have a roadmap for your org structure and company. Planning ahead on hiring, and in particular to hiring leaders, is equivalent to making sure your backend can deal with future traffic spikes. If you do not do the planning, and hiring, you are likely to hit a major bump and meltdown in the reasonably near term.

NOTES
[0] "First time scaling" is different from "first time founders". You may have successfully sold a prior 15 person startup to Google, been a manager at Google and then started company #2. The early part of startup 2 will likely be much easier (fundraising, hiring the first employees etc). However if you have never been part of growing a company from tens to hundreds or thousands of people as a founder or executive, you may need to learn high growth lessons first hand just like any first time founder.
[1] Executive search firms are terrible for individual contributors but great for executives. Your investors or other break-out company founders can suggest good recruiting firms for you. In general search firms will have better networks for VP/CxO level roles and understand the process you need to run to hire them.
[2] This post is riddled with terrible analogies, for which I apologize.
[3] This sadly reminds me of the Ross Perot "chicken in a bathtub" quote.
[4] I am, of course, exaggerating my reaction.
MY BOOK
You can order the High Growth Handbook here. Or read it online for free.
OTHER POSTS
Markets:
Startup life:
Raising Money